In this post, I want to share with you why I love cards, why my cards are different from the ones you see on most shelves, and how they can brighten someone's day!
It all started a few years ago when I was looking for a card for Mother's Day – all I could find were ones with cheesy poems, pink and purple colours, and glitter. No thanks! I left feeling frustrated and with no card at all.
This is where I experienced what you'd call a light bulb moment. I said to myself, "Well, why don't I just make my own this time?" I had just started hand lettering a few months before – so I wrote out "Happy Mother's Day" with a brush pen, scanned it onto my computer and printed it on cardstock with our cheap HP printer. It was simple, and the focus was on the message that I wanted to thank my mom and my mother-in-law for, not just scribbling my name under a cringe-worthy poem.
I really loved creating that card, so I came up with a few different designs for birthdays, weddings, and 'thank you' cards. I received a lot of great feedback and local support, so I purchased a higher quality printer, the Epson Artisan 1430. My wonderful & supportive friend, Laurie, started selling my cards in her beautiful store and shortly after I started up my Etsy shop!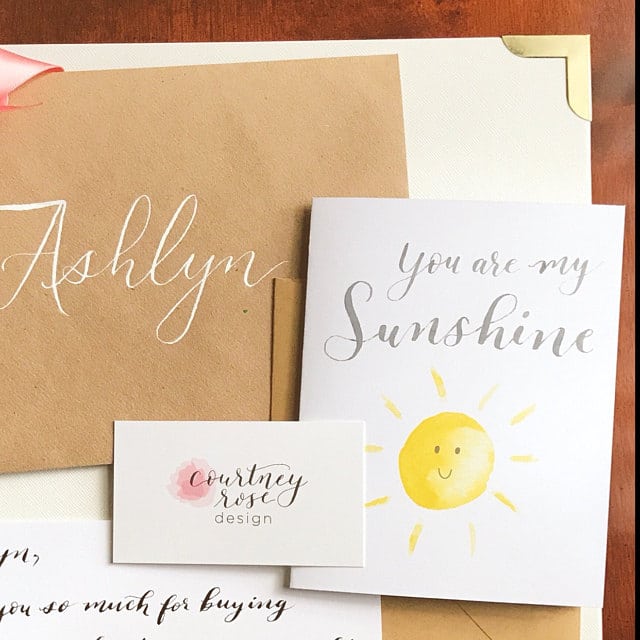 one of the first greeting cards i designed, i still have this card in my collection but have since updated the design!
But as the year went on, I felt like something was missing. I wanted my cards to be more than just "folded pieces of paper." I wanted whoever received them to feel like the card itself was a little gift that they didn't want to throw away! So, I searched high and low for a handmade paper that would work with my printer and found the beautiful handmade Italian deckled paper that I continue to use today for my cards.
welcome to the world card featuring subtle, distressed gold foil. includes handmade italian paper with deckled edges and a self adhesive wax seal.
My ever-growing obsession with wax seals led me to include a self-adhesive seal with the card to complete your card & envelope, something I hadn't seen done before. They paired beautifully with my minimal designs. It's all in the details!
With the handmade paper and wax seals, I was able to focus on keeping my designs simple so that the message inside could stand out. I could imagine someone receiving a card in the mail from a friend that they haven't talked to in forever, and how it would bring them back all of the wonderful memories they created together growing up. I could imagine someone receiving an anniversary card from their partner who doesn't always know how to describe out loud how they truly feel, but when reading their words they wrote inside, they feel loved and appreciated. I could picture someone who has everything they need and doesn't need the perfect gift, who receives something as simple as a card that shows them how much they are loved. A beautiful card can make a special moment, like having a new baby or graduating from school, even more meaningful and special with words. Words don't have to be written elegantly, like a famous writer or like the scripted poems you find elsewhere, to convey meaning. Whether all of the space is filled up with a heartfelt message, or a simple "I love you", it will be cherished deeply!
I want you to feel like you're able to give a special gift and a piece of art at the same time, something that is more than just a card. I love creating new designs keeping in mind that the card is going to make someone out there feel special and will hold a meaningful message inside as a keepsake! 
Thank you to everyone who has supported me from the beginning of my card-making days, to anyone who has purchased one of my cards, or sent kind words my way. It is deeply appreciated and brightens my day more than you know! 🙂
(And heck yes I do my happy dance when I receive a new order!)
where to buy cards:
online – courtneyrosedesign.ca
retail